If you or someone you know is in need of a wheelchair ramp, there are a few ways to get one built for free. The first step is to contact your local government or social service agencies to see if they have any programs in place to help with the cost of building a ramp. There are also a number of non-profit organizations that may be able to help with the cost or provide resources for getting a ramp built.

Finally, there are a number of crowdfunding platforms that can be used to raise money for the construction of a wheelchair ramp.
Contact your local municipality to inquire about wheelchair ramp building programs
Many cities and towns have programs in place to provide free or low-cost ramps for those in need
Reach out to community organizations such as the Lions Club, Rotary Club, or Kiwanis Club
These groups often have volunteers who are willing to build ramps for those in need
Ask family and friends if they know anyone who could help build a ramp
Many people are happy to help out if they are able to do so
Check with companies that specialize in building wheelchair ramps
Some of these companies may offer discounts or special rates for those who need a ramp built but cannot afford to pay full price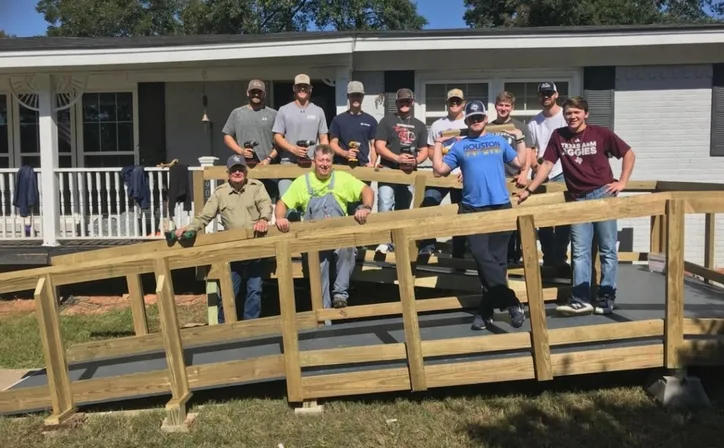 Credit: texasramps.org
Does Medicare Cover a Ramp?
No, Medicare does not cover the cost of a ramp.
How Much Does It Cost to Build a Ramp for a Wheelchair?
There is no definitive answer to this question as it depends on a number of factors, including the size and complexity of the ramp, the materials used, and the location. However, a typical wooden ramp for a wheelchair might cost between $800 and $1,500 to build.
What Can I Use Instead of a Wheelchair Ramp?
There are a few things that can be used in place of a wheelchair ramp. One option is a stair lift. A stair lift is a device that helps people with mobility issues get up and down stairs.

They can be installed on both indoor and outdoor stairs. Another option is an elevator. An elevator can be either residential or commercial.

There are also portable ramps that can be used for both temporary and permanent solutions.
How Much Does It Cost to Build a Small Wheelchair Ramp?
If you're looking to add a wheelchair ramp to your home, the cost will vary depending on several factors. The average cost for a small wheelchair ramp is between $1,000 and $2,500. This price range includes the cost of materials and labor.

The size of the ramp will be the biggest factor in determining the final cost. A small ramp that is just a few feet long will obviously cost less than a larger ramp that spans multiple yards. The type of material you choose for your ramp will also impact the price.

Wood ramps tend to be less expensive than concrete or metal ramps. Another important factor to consider is whether you plan to hire a professional contractor or if you'll tackle the project yourself. If you're not comfortable working with tools and construction materials, it's probably best to leave this one to the pros.

Hiring a professional will obviously add to the overall cost, but it could save you money in the long run if things go wrong during DIY installation.
How can I make a wheelchair ramp for free?
Habitat for Safe Seniors Free Ramp Program
If you're a senior citizen in need of a ramp to make your home more accessible, you may be eligible for the Habitat for Safe Seniors Free Ramp Program. This program is offered by Habitat for Humanity International and provides free ramps to low-income senior citizens who own their homes. To be eligible, seniors must meet income guidelines and have a permanent disability that makes it difficult to use stairs.

If approved, Habitat for Humanity will build a ramp at no cost to the senior citizen. The ramp will be built according to specifications provided by an occupational therapist or other medical professional. For more information about the program or to apply, visit the Habitat for Humanity International website.
Home Depot Wheelchair Ramp Program
If you're a wheelchair user, or know someone who is, you'll be happy to hear about Home Depot's Ramp Program. Through this program, Home Depot stores across the country offer free ramp installation to customers with disabilities. To take advantage of this program, simply bring your wheelchair or scooter to the customer service desk at any participating store.

The team there will help you select the right ramp for your needs and schedule a time for installation. Once the ramp is installed, you'll be able to use it whenever you need it – no appointment necessary! This program is just one example of Home Depot's commitment to inclusion and accessibility for all.

So next time you need a ramp, be sure to head to your local Home Depot store.
Habitat for Humanity Wheelchair Ramp Application
If you need a ramp for your home and are unable to afford one, you may be eligible for a free ramp through Habitat for Humanity. To see if you qualify, fill out their online application. In order to qualify, applicants must:

-Be a U.S. citizen or legal resident -Have a permanent disability that limits their mobility -Live in a single-family home (ramps can not be installed on multi-family dwellings such as apartments)

-Not have the financial means to purchase or install a ramp on their own If you meet all of the qualifications above, click here to fill out the online application. You will be asked to provide proof of disability and income as well as contact information so that someone from Habitat for Humanity can get in touch with you about scheduling an installation date.
Churches That Build Ramps
Churches That Build Ramps: Making Worship Accessible to All When it comes to making worship accessible to all, churches that build ramps are leading the way. By removing barriers and providing a level surface for wheelchair users and those with mobility issues, these churches are ensuring that everyone can participate in worship.

While most church buildings were not designed with accessibility in mind, many are now taking steps to rectify this. In addition to installing ramps, some churches are also making their sanctuaries and other spaces more accessible by adding elevator access and wider doorways. These efforts are paying off.

Inclusive design is not only making worship more accessible for those with disabilities, but it is also creating a more welcoming environment for everyone. If you're looking for a church that is inclusive and accommodating, be sure to ask about accessibility features before you visit.
Free Ramps for the Disabled Texas
If you're disabled and live in Texas, you may be eligible for a free ramp. The Texas Department of Housing and Community Affairs (TDHCA) provides ramps to qualified low-income homeowners and renters with disabilities. To be eligible, you must:

Be a homeowner or renter with a disability Have an annual household income at or below 80% of the median income for your area Be a U.S. citizen or legal permanent resident

If you meet these criteria, TDHCA will provide you with a ramp at no cost. You can use the ramp for as long as you own or rent your home.
Free Wheelchair Ramps for Elderly
As we age, many of us begin to experience mobility issues. This can make it difficult to get around our homes, especially if we don't have a ramp leading up to the front door. Thankfully, there are organizations that provide free wheelchair ramps for elderly homeowners.

One such organization is Ramping Up For Warriors. They provide free wheelchair ramps to disabled veterans and their families. Another organization is Freedom Ramps, which provides free ramps to low-income seniors and people with disabilities.

If you or someone you know could benefit from a ramp, reach out to one of these organizations today. It could make all the difference in maintaining your independence at home!
Who Build Handicap Ramp for Free in Nc
If you're looking for someone to build a handicap ramp for free in NC, there are a few options available to you. The state of North Carolina offers a program called "Ramps to Freedom" which provides free ramps to those who qualify. There are also a number of nonprofit organizations that provide this service, such as the American Red Cross and Habitat for Humanity.

And finally, there are a number of private companies that offer this service on a sliding scale or pro bono basis. Whatever route you choose, be sure to do your research and get multiple bids before making a decision.
Grants for Wheelchair Ramps
There are a number of organizations that provide grants for wheelchair ramps. The National Ramp Project is one such organization. They provide funding for the construction of wheelchair ramps for low-income homeowners with disabilities.

There are also a number of state and local organizations that provide similar types of assistance.
Conclusion
If you or a loved one is in need of a wheelchair ramp, there are a few ways to get one built for free. One way is to contact your local Department of Social Services or Medicaid office and inquire about their home modification program. Another way is to reach out to charities or religious organizations in your area that may have programs in place to help those in need.

Finally, you can also check with your city or county government offices to see if they offer any type of assistance for those who need wheelchair ramps.